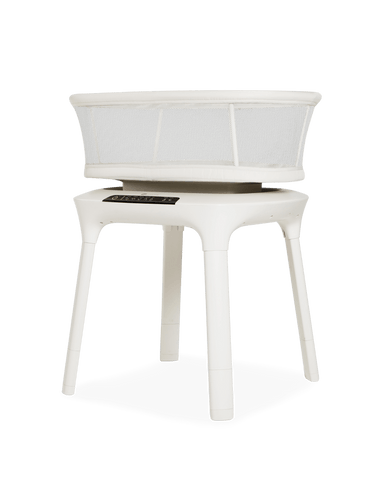 mamaRoo sleep® bassinet
Believe in better
Gentle swinging movements that imitate the movements of the parents have a calming effect and lull your baby to sleep. 5 unique motions and 5 speed levels can be combined and perfectly adapted to your baby's individual needs. You can also choose from 4 different white noise sounds. The mamaRoo Sleep® is conveniently controlled via the 4moms app.
car ride
kangaroo
tree swing
rock-a-bye
wave
Parents were often desperatley looking for a solution to help their newborn fall asleep (and stay asleep longer), but few succeed and also allow mom and dad to get some much-needed rest too. We felt it had to be better. That's why we integrated the proven, naturally calming movements of the mamaRoo® multi-motion baby swing™ into a bassinet - and introduced the 4moms mamaRoo Sleep.
mamaRoo's 5 unique movements replicate the natural bouncing and rocking movements parents use to soothe and soothe their babies. Now we've incorporated the same motion technology into a firm, flat surface - so you and your baby can get the sleep you both need.
You can also choose from 4 different white noise options (rain, ocean, fan and shh). The mamaRoo sleep is controlled manually or via the free 4moms app (iOS & Android). Your baby's sleep can be improved with the help of the timer, which can be controlled via the 4moms app.
Characteristics:
5 unique motions to calm and improve sleep quality
5 speed levels
4-white-noise options (rain, ocean, fan, «shh»)
Bluetooth-enabled for operation via 4moms app
Side walls made of mesh fabric for good visibility and sufficient air circulation
Timer to set up a sleep routine
Variably adjustable height (2 levels)
Water-repellent mattress
Tool-free assembly
Mattress is machine washable, the sleeping basket and the mesh fabric can be cleaned with soap and warm water
Display dims after 90 sec.

Automatic switch-off function after 4 hours
Sturdy, flat sleeping pad
5 unique moTIONS
Specifications:
Age:
For newborns up to a maximum of 11.3 kg or until the baby can get into a crawling position on its own.
Dimensions:
Height adjustable 87.5 - 99 cm, length 86.4 cm, width 61 cm
Dimensions mattress:
74,2 x 43,9 x 0,6 cm
Mattress and 1 mattress cover included.
Mains plug (EU norm), no batteries needed.