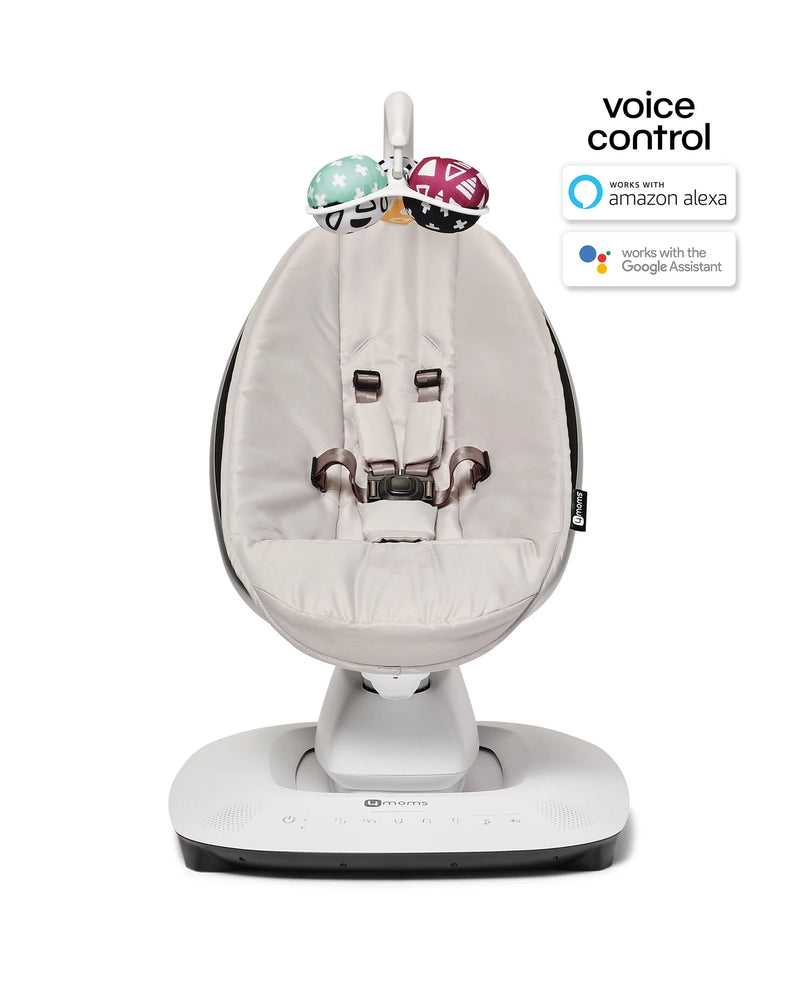 NEW: mamaRoo® 5 multi-motion baby swing
NEW: mamaRoo 5 multi-motion baby swing
It moves like you do
Car ride
kangaroo
Tree Swing
Rock-A-Bye
wave
The "Find your Roo" feature in the 4moms app allows you to analyse your natural movement patterns and find the perfect movement and sound combination that most closely resembles your personal calming style.
You can also conveniently play your own music via Bluetooth. Smart home functions through voice control with Amazon Alexa and Google enable the mamaRoo 5 to integrate seamlessly and hands-free into the household. You can also control the mamaRoo 5 from the comfort of your sofa using the app (iOS & Android) or, of course, manually on the baby bouncer itself.
Depending on your needs, you can change the sitting position into a lying position. The mobile with the 3 colourful patterned play balls includes a bell, a mirror and a crackle cloth and thus promotes the auditory, haptic and visual sensory and sensory coordination of your baby. They are also great to take along for playtime later on.
Specifications:
Age & Weight Limit:
For newborns until the baby weighs 11 kg. Safety note: Please use the 3-point harness at all times, you must switch to the 5-point harness as soon as your baby can sit up without help.
Security:
Restraint system with 5-point belt, adjustable to 3-point belt


Operation:
Mains plug (EU standard), no batteries required

classic grey
classic black